Dear Lovers of Khwaja Garib Nawaz (R.A)
During Chhati Sharif This is to inform everybody in the world, that this is the occasion were everybody is invited to unite & show the love & affection between themselves & Khwaja Baba.
This is to inform you that on every 6th of lunar month the Niyaz of Hazrat Khwaja Syed Moinuddin Chishty (R.A.) "Gharib Nawaz" is being held.
First thing in the morning at around 9:00 am were thousands of devotees of khwaja baba. (R.A.) gathers together & represent themselves towards Dargah Sharif & pay there respect & Pray the Salaat-O-Salaam & After Darood -0-Salam the food is served to all over Dargah Sharif of Kwaja Baba which is in form of Niyaz & Langar; Niaz & Langer is taken part from those people who are the members & according to their
capacity they intend to take part every month.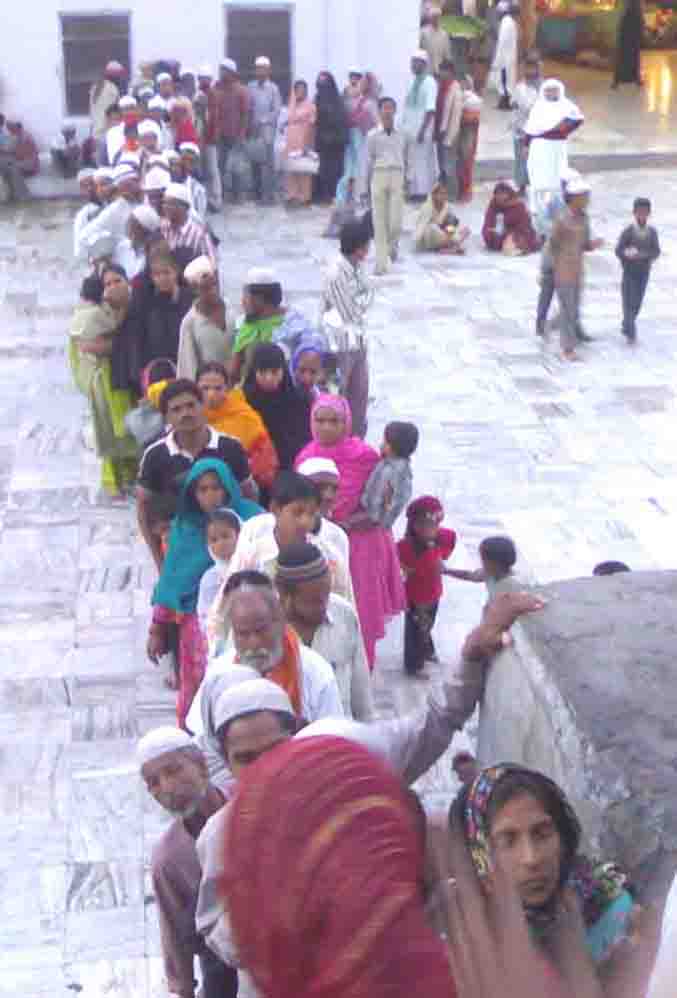 It would be nice that we all play part in good deeds & take part to become member & help everybody which will be a great reward for here & hereafter; As in todays world people are more busy earning for the world & forgetting ALLAH PAAK'S home to which we all have to return. This is the greatest way to earn "Paradise".

We are based here in ajmer where you can send your Niaz, Langer, Quran khani, Yashin Khatam of 41x, Sawa Lakh Darood Sharif, Sawa Lakh Ayate- Karim, Sawa lakh Bismillah Sharif, Sawalakh Nade Ali, prayers for members who passed away (died) etc. This is mainly for people are working don't have time to pray.All this prayers would help to benefit spiritually, if you have any problems, any diseases, any dangers, any troubles, etc. these prayers would really help, with good faith. (Ameen).
If you want to take part in above mention prayers you may call us personally or Register us by Cheque,by Postle Orders,Western Union Money Transfer & Money Gram or easy way by account in UK.
ALL YOUR DEEDS BE ACCEPTED BY ALLAH SUBHANA-WA-TALLA
YOUR PRESENTATION IS ACCEPTED BY TAKING PART IN
CHHATI SHARIF
SALAT-O-SALAAM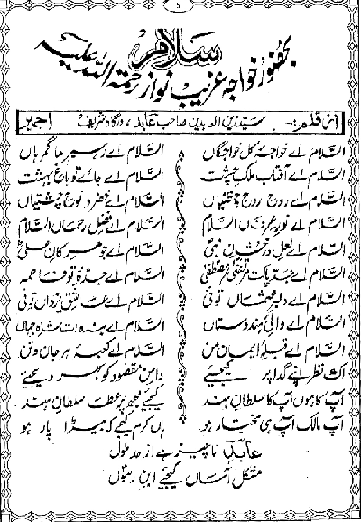 Asslam aye khwaja-e-kul khwajgaan
Asslam aye rahbere ma gumraaha
Asslam aye aaftab-e-mulko chisht
Asslam aye jaye to bagh-e-bahisht
Asslam aye rooh rooh-e-chishtiya
Asslam aye jaan jaana chishtiyan
Asslam aye noore irfaan asslam
Asslam aye fazle rehmaan
Asslam aye laale darkhshane nabi
Asslam aye johare kaane ali
Asslam aye jadde paake murtuja
Asslam aye jadda-e-to fatima
Asslam aye dilbare usmaa tui
Asslam aye aashike yajda tui
Asslam aye waali-e-hindostaa
Asslam aye band-e-at shahjahan
Asslam aye kibla-e-imaane man
Asslam aye kaaba-e-har jaano tan
Ik nazar apne gada pe kijiye
Daamane maksood ko bhar dijiye
Aapka hun,aapka Sultan-e-hind
Aap maalik aap he mukhtar ho
Haan karam kije ki beda paar ho
"Aabide" naacheez hai azhad malool
Mushkil aasan kijiye ibne-rasool
Please contact us if you want to associate yourself with us
in Annual Chatti Sharif
In my name (syed shah nawaz chishty) ajmer india plz send money through western union money transfer or Money Gram as that is very reliable and convenient and in this way you can transfer money anytime from anywhere in form of offerings in Urs dargah sharif of hazrat khwaja gharib nawaz (r.a) of ajmer sharif.also you can send any amount of your choice in name of chaddar,gilaf, langer, niyaz ,fatiha ,any holy work of khwaja gharib nawaz (r.a) dargah sharif.ajmer india
IF YOU NEED ANY SPIRITUAL HELP
CONTACT ON THESE Nos.:

+91-09829270093,09928237078,

+91- 09252828476 , 09772110786
Our indian Bank Account
DONATE -ICICI BANK
ACCOUNT NAME--syed shah nawaz chishtY
ACCOUNT NO. 018501528824 (Ajmer Branch)
Swift Code: ICICI NBBCTS
Our indian Bank Account
DONATE -SBI BANK
ACCOUNT NAME--syed shah nawaz chishtY
ACCOUNT NO. 30757167749 (Ajmer Branch)
Swift Code: SBIN BB372 ( IFSC SBIN 0007959 )

Note : Do not send any Zakat money ; Sadqah , Fitrah& money for orphans.
Donations & Nazrana will be accepted only
Chief Moallim Hazrat Khwaja Syed Moinuddin Hasan Chishty(R.A.)
Gaddinashin
HAJI Shah Syed Shah Nawaz Chishty
s/oHAJI Peer Syed Hasan Chishty
CHISHTY MANZIL (ZIA HOUSE)
P.O.BOX 109,DARGAH AJMER SHARIF(INDIA)



Email :syedshahnawazchishty00@yahoo.com
CONTACT US